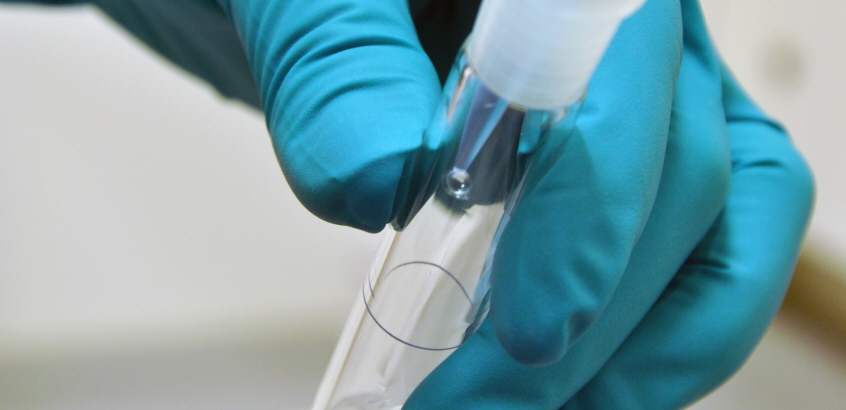 Photo: Elin Sjöstedt SGI
Projects
We participate in a number of international and European research projects. Here are a selection of on-going and completed projects.
On-going projects
EVOKED
Enhancing the value of climate data – translating risk and uncertainty utilizing a Living Labs approach
EVOKED is a three-year research project that aims to enhance the value of scientific data. The goal is to make climate data easier to understand and use by decisionmakers and end-users. The project engages stakeholders in a Living Labs approach and encourages them to identify which kind of data or measure evokes action towards climate adaptation and risk reduction. EVOKED is a consortium of four research institutes, the Norwegian Geotechnical Institute (NGI), the Swedish Geotechnical Institute (SGI), Deltares in the Netherlands and the Institution of Geography at Christian‐Albrechts University in Kiel in Germany. The Värmlands County Administrative Board is the Swedish stakeholder partner.
Contact: Lisa van Well
CIMULACT
Citizen and multi-actor consultation on horizon 2020 (2015-2017)CIMULACT project website
Contact: Lisa van Well
INSPIRATION
Integrated spatial planning, land use and soil management research action
INSPIRATION project website
Contact: Yvonne Ohlsson
Finished projects
IBRACS
Integrating Bioavailability in Risk Assessment of Contaminated Soils: opportunities and feasibilities (2011-2014)
Information about IBRACS and reports (SNOWMAN networks website)

Contact: Dan Berggren Kleja
IMaHg
Enhanced knowledge in mercury fate and transport for improved management of Hg soil contamination (2011-2014)
Information about IMaHg and reports (SNOWMAN networks website)
Contact: Yvonne Ohlsson
ROADAPT
Road owners adapting to climate change (2013-2014)
More information about ROADAPT and reports (CEDR´s website)

Contact: Per Danielsson
DiPol
DiPol (Impact on urban and coastal water quality - Diffuse Pollution)
The aim of DiPol was to develop a decision support model that will simulate the environmental effects of climate change (CC) on water quality and to develop a communicative tool to help decision makers to counteract these impacts, on both a local and international level.
SMOCS
The project has a very wide support. Support is expressed by e.g. HELCOM, Ministry of Environment in Finland, Ministry of Transport and Communication in Lithuania, Environmental Protection Agency in Sweden, Maritime Administrations in Sweden, Finland and Poland, Baltic Ports Organisation, Swedish Ports, Finnish Environment Institute, Port of Turku, By&Havn (City&Port) Copenhagen, Denmark, Saarte Liinid (ports in Estonia). Gdansk University of Technology, and Lenmorniiproekt in St Petersbrug and also Federal State Enterprise "Baltic Directorate on marine survey technical provision" in Russia supported by Leningrad region administration.
STABCON
STABCON (Stabilisation/solidification of contaminated sediments and dredged materials) will develop the stabilisation/solidification method so that those responsible for harbours and other areas with contaminated sediments and dredged materials can analyse and apply the Stabilisation/ Solidification method as an alternative to the current methods of handling.
DIRECT-MAT
– a European web database about road material recycling
DIRECT-MAT's web database and Best Practice Guides are the results of a European coordination and support action funded by the EC 7th Framework programme "Sustainable Surface Transport" 2009-2011, with Swedish co-financing from Formas, the Swedish Road Administration and SGI.

CPA
Climate Proof Areas was an international project on climate change and how a region can adapt to increased flood risk.
GeoTechNet
The official starting of the Network was December 1, 2001. For the time being GeoTechNet has about 40 members of 17 European countries.
LessLoss
2004-2007. LESSLOSS was a European Integrated Project focusing on Risk Mitigation for Earthquakes and Landslides that relied on the active participation of 46 European partners from both academia and industry.
Messina
2004-2007. MESSINA stands for "Managing European Shoreline and Sharing Information on Near-shore Areas". The initiative was taken by a number of national, regional and local institutions to the INTERREG III C West zone programme of the European Union.
Preview
Geo-Information Services for Natural and Industrial Risk
PREVIEW is an EC- co funded research project looking for new techniques to better protect European citizens against environmental risks and to reduce their consequences. The project is coordinated by INFOTERRA France.
RIMAROCC
RIMAROCC (Risk Management for Roads in a Changing Climate) is an ERA-NET ROAD project in a collaboration between SGI, Egis, NGI and Deltares, running during 2008-2010. The purpose is to develop a common method for risk analysis and risk management for roads, considering the climate change.
RuFUS
Re-use of Foundations on Urban Sites (2003-2006) Objectives: To overcome the barriers, both technical and non-technical, to the re-use of founadtions for sustainable development.
SAWA
SAWA is an international project which consists of 22 subprojects with a focus on climate and flood problem in Sweden, Norway, Netherlands, Scotland and Germany.
Sustainable Bridges
2003-2007. Sustainable bridges was a project which assessed the readiness of railway bridges to meet the demands of the 2020 scenario and provided the means for up-grading them if they fall short.
Page was updated 2017-10-03