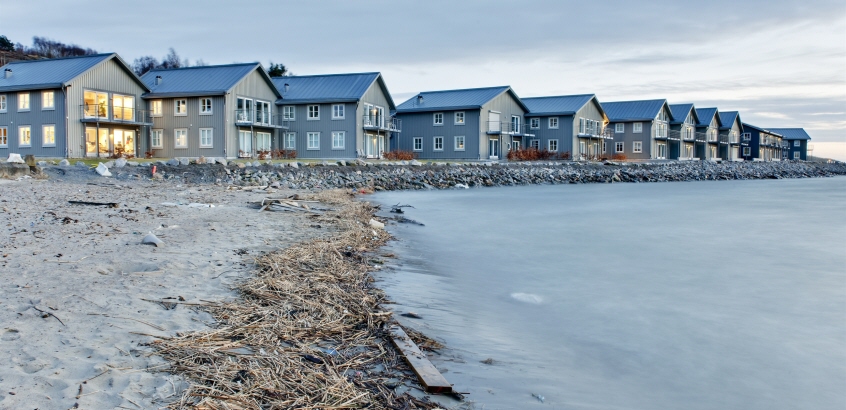 Photo: Mikael Svensson / Scandinav bildbyrå
Research areas
We have organised our research to support all three operating areas. Below is a brief description of the orientation of our research fields: More effective ground construction, Management of contaminated sites, and Climate change adaptation.
More effective ground construction
Research is focused on improving knowledge of the buildability of land and how a reduced resource and climate load in ground construction can be achieved, as well as methods and technology to support this process. This requires an improved understanding of the geotechnical and geochemical features of soil, rock and waste-classified materials, as well as more effective foundation and reinforcement methods. This is particularly the case with geotechnically problematic soils, and in conjunction with a change in load conditions. Through innovative technology and the adoption of a lifestyle perspective, environmental and resource considerations can be incorporated more widely into ground construction. This can be achieved, for example, through increased recycling of waste, soil and rock materials. This includes the development of computation methods and decision support tools that can underpin planning procedures by processing and mediating information and data relating to the buildability of land.
Management of contaminated sites
Research is focused on contributing to improving the efficiency of the work that is being conducted nationally on contaminated areas. This area of research covers the occurrence of contaminants in both the built environment and the natural environment. The fate and transport of contaminants in the environment is a key issue of relevance to both risk assessment and characterisation of contaminated media, and for the development of treatment methods and the long-term follow-up of these methods. In addition to the environmental aspects, social and economic dimensions are included as well as methods and tools for assessing sustainability. It is vital that new modes of action are developed, as well as more effective excavation and re-use of treated or untreated surplus masses . The measures taken are aimed at either reducing the amount of contaminants in the environment, or reducing the degree to which the contaminants are accessible for uptake and dissemination. Methods that offer greater precision in risk assessment and characterisation could also contribute to a reduction in the volumes of clean or low-polluting massesbeing sent to landfill.
Climate change adaptation
To adapt society to a changing climate, research and development is needed that deals with the impact on society, its resilience, solutions for adapting society and the follow-up of climate adaptation initiatives that are currently being implemented. Research is focused on how the meteorological and hydrological effects of climate change affect the suitability of land in terms of ground conditions, landslide and erosion risks, land use, and the effect on the built environment, including the infrastructure. This also includes the level of impact and how it should be assessed, measured or calculated. This knowledge forms a basis for the potential assessment of the ability of land, nature and society to recover (resilience), which is an area in which our current knowledge is lacking. Part of the climate adaptation process, which has not been sufficiently developed, is the follow-up and evaluation of the initiatives that are being implemented. It is important to be able to evaluate whether the measures are effective and suited to purpose, or if they generate negative consequential effects in other areas that should be avoided. If we are to develop long-term, sustainable adaptation solutions on all planning levels, and which are at the same time effective and well adapted, we require basic knowledge about how the land is affected by climate change as well as knowledge about the effect of the measures that have already been taken.
Page was updated 2017-08-29